Algebra and Beyond
Regular price
Sale price
$7.50
Unit price
per
Sale
Sold out
Linear equations are all around us! This resource includes SIX different projects (100% editable) from basic to advanced levels of Pre-Algebra and Algebra.
The real-life topics:
• Cell phone plans
• Hourly Wages
• Frequent Flyer Miles
• Temperature Conversions
• Taxi Fares
• Car Depreciation (linear)
INCLUDED (EDITABLE):
• 6 Student Projects - Print (PPT & PDF) & Digital (Google Slides)
• Answer Keys (Google Sheets)
• Rubric (PPT)
• Example Project (Google Slides)
OBJECTIVE: Analyze a linear equation in a real world setting. Students will be able to demonstrate your knowledge and understanding of the following skills:
Write a linear equation that represents a real world scenario.
Create a table to represent data for the linear equation.
Graph the linear equation.
Create a visual demonstrating this real world scenario.
Answer questions about the real world scenario by analyzing the equation, table, and graph.
View full details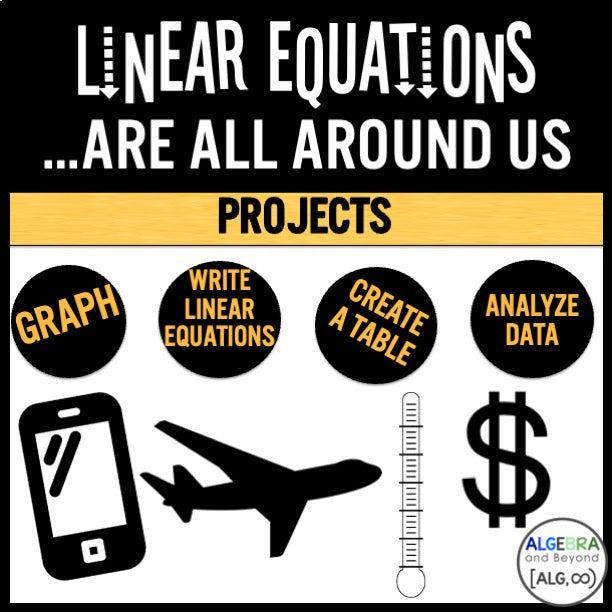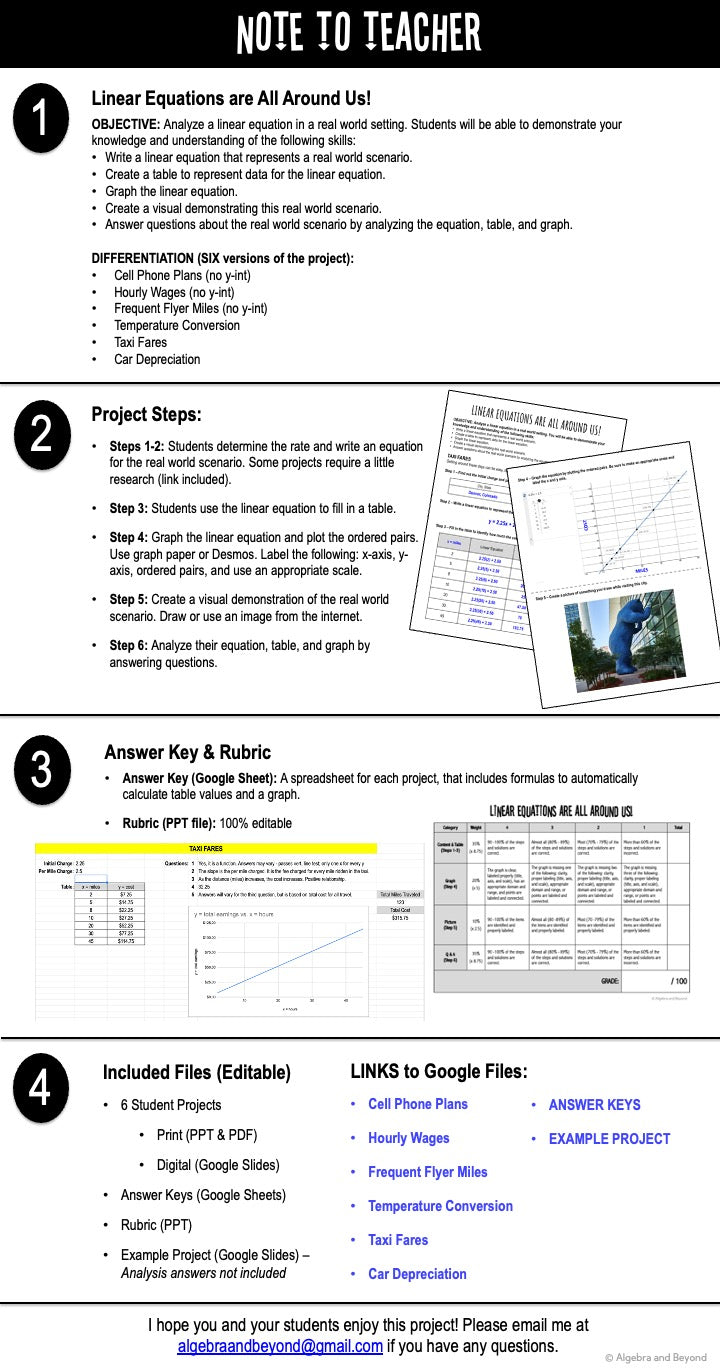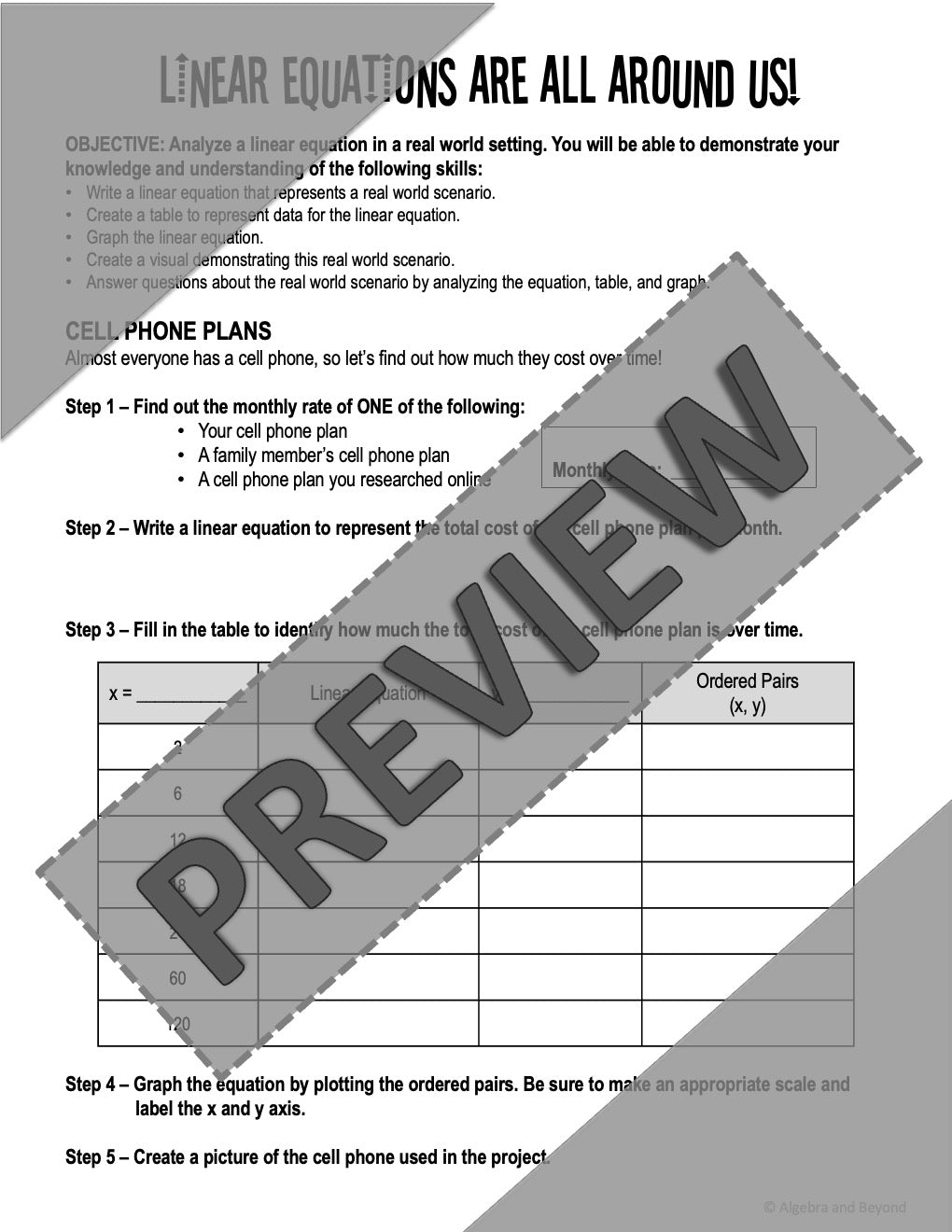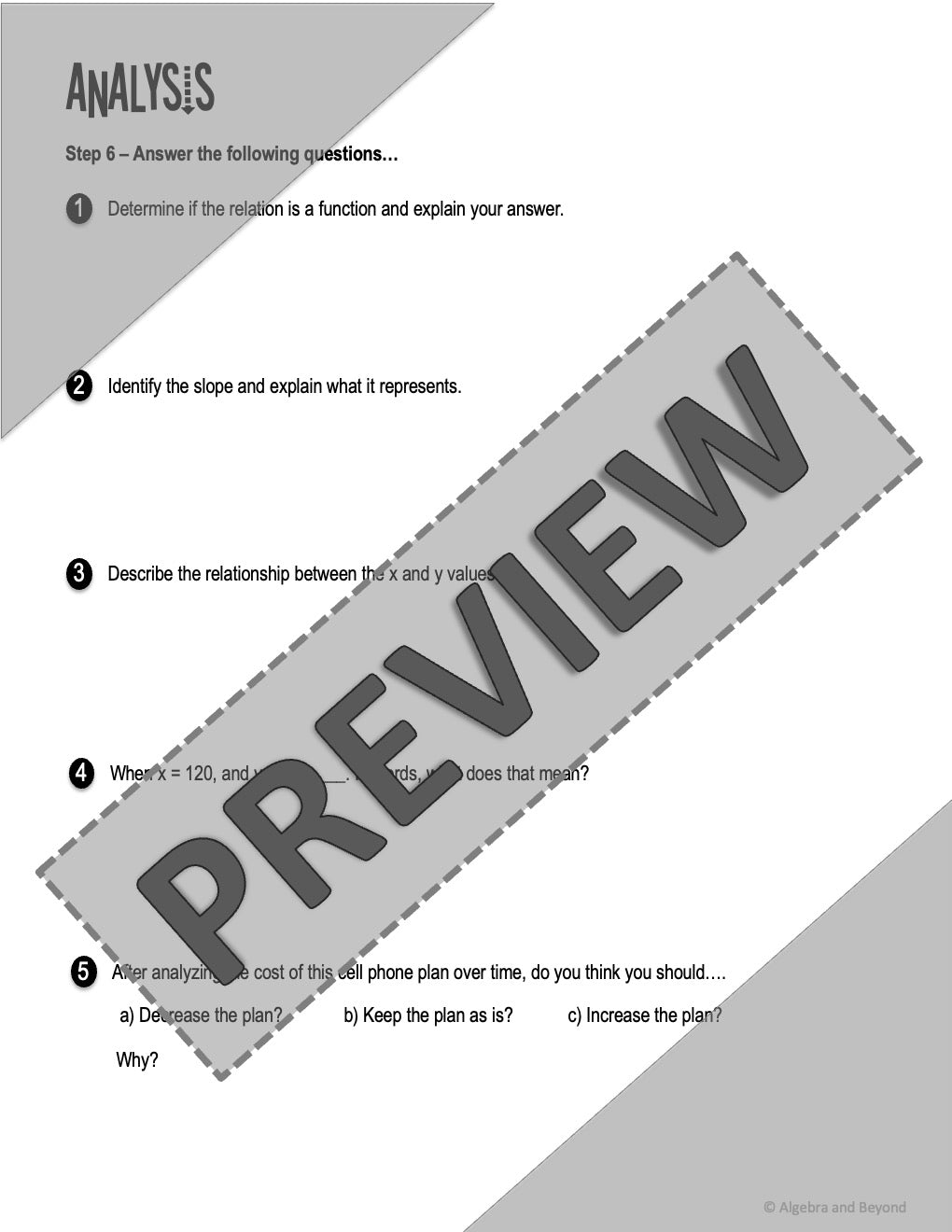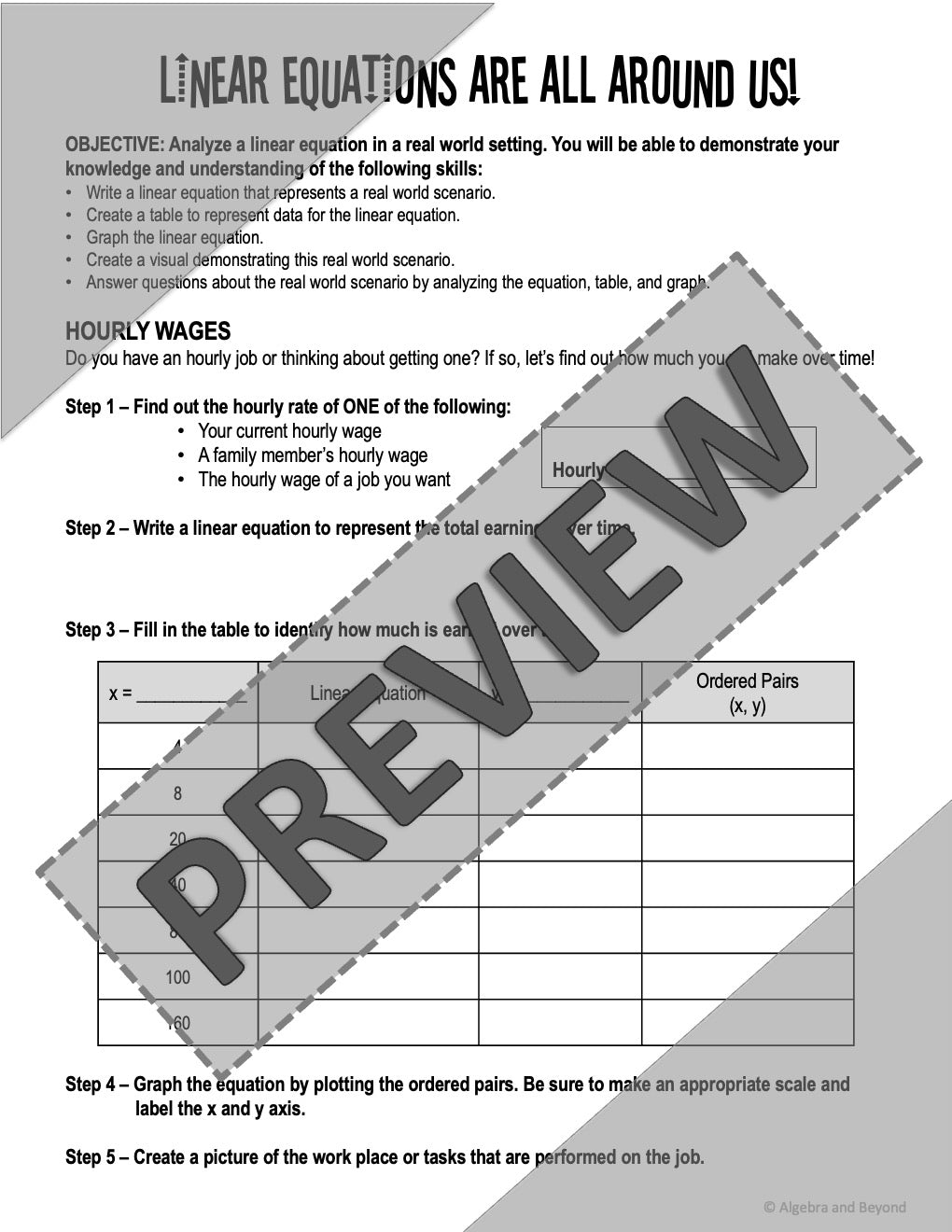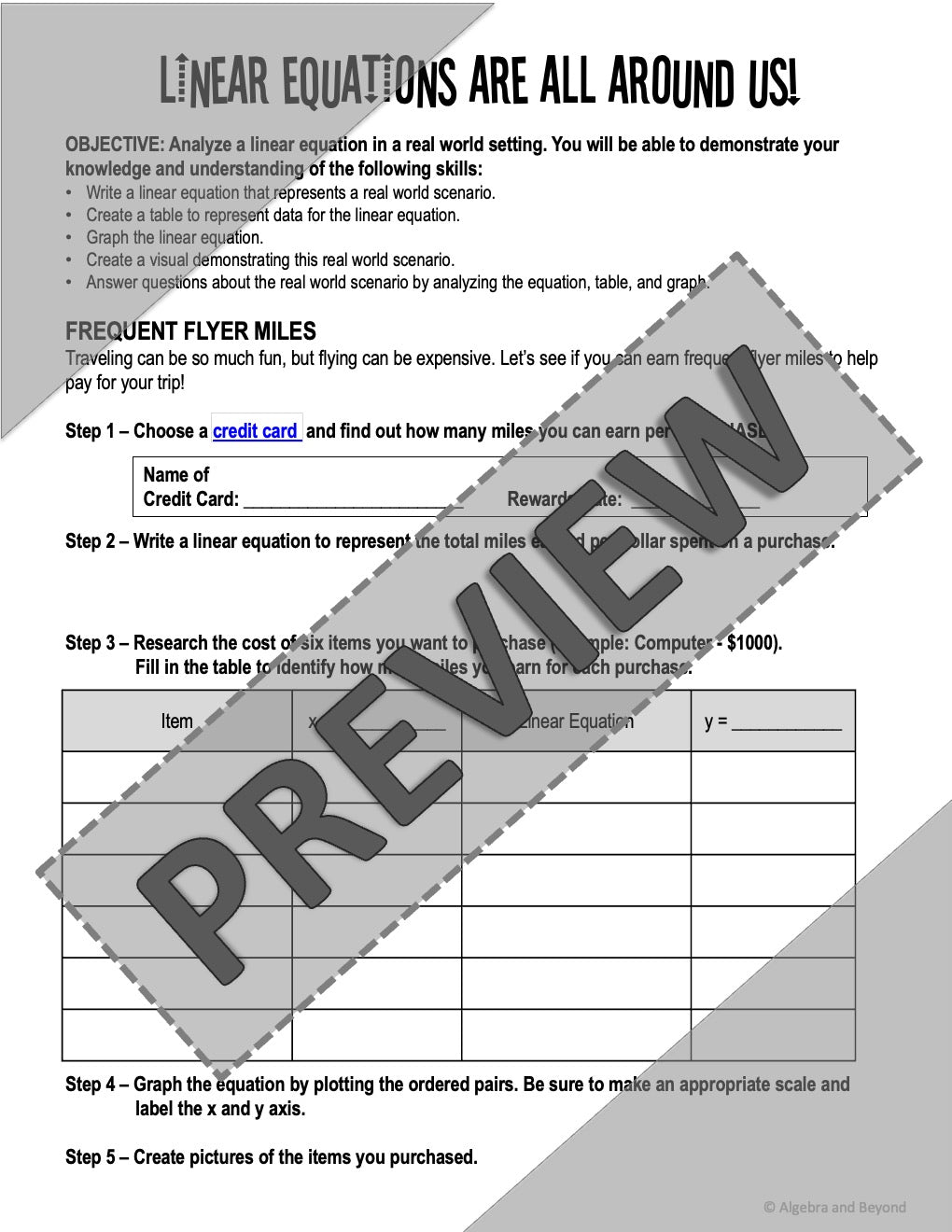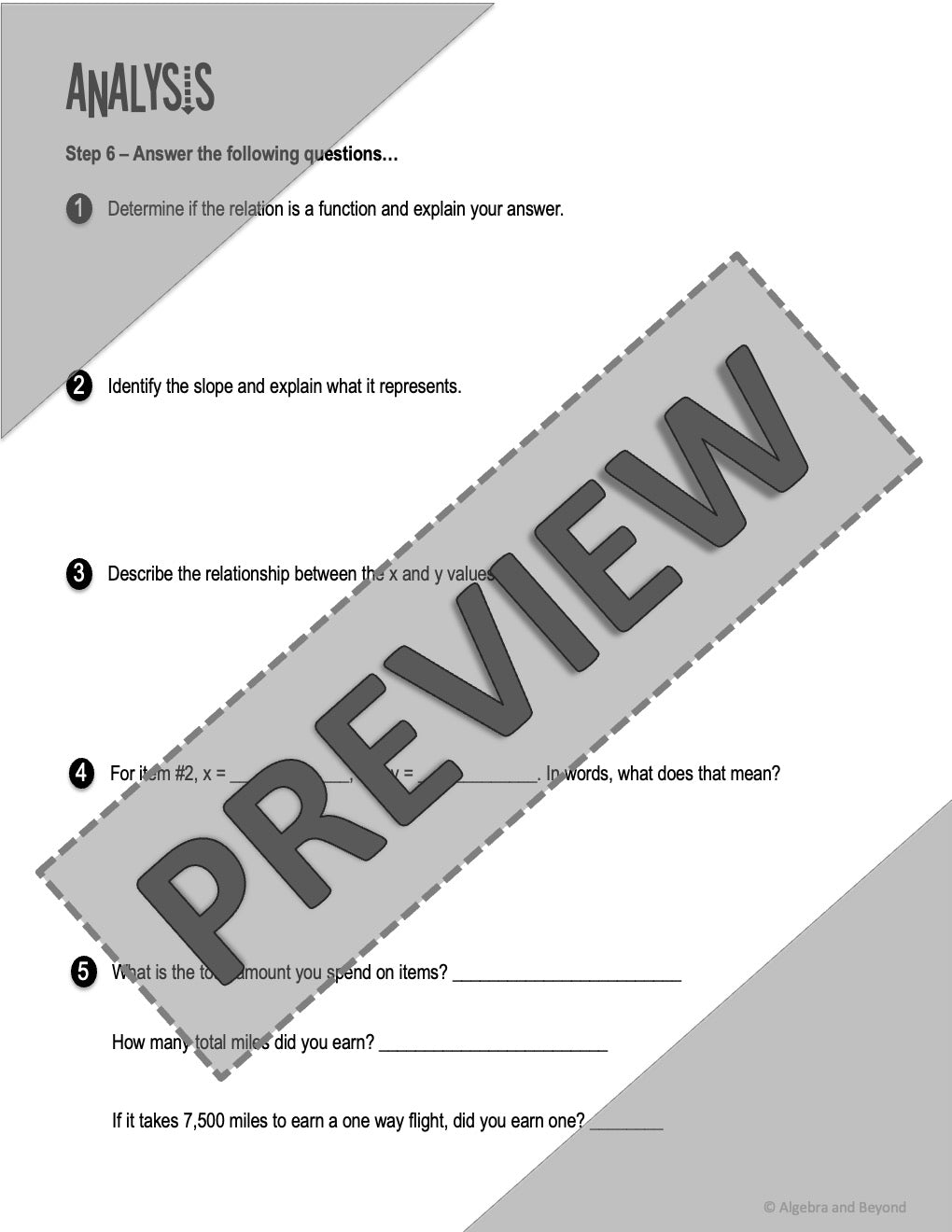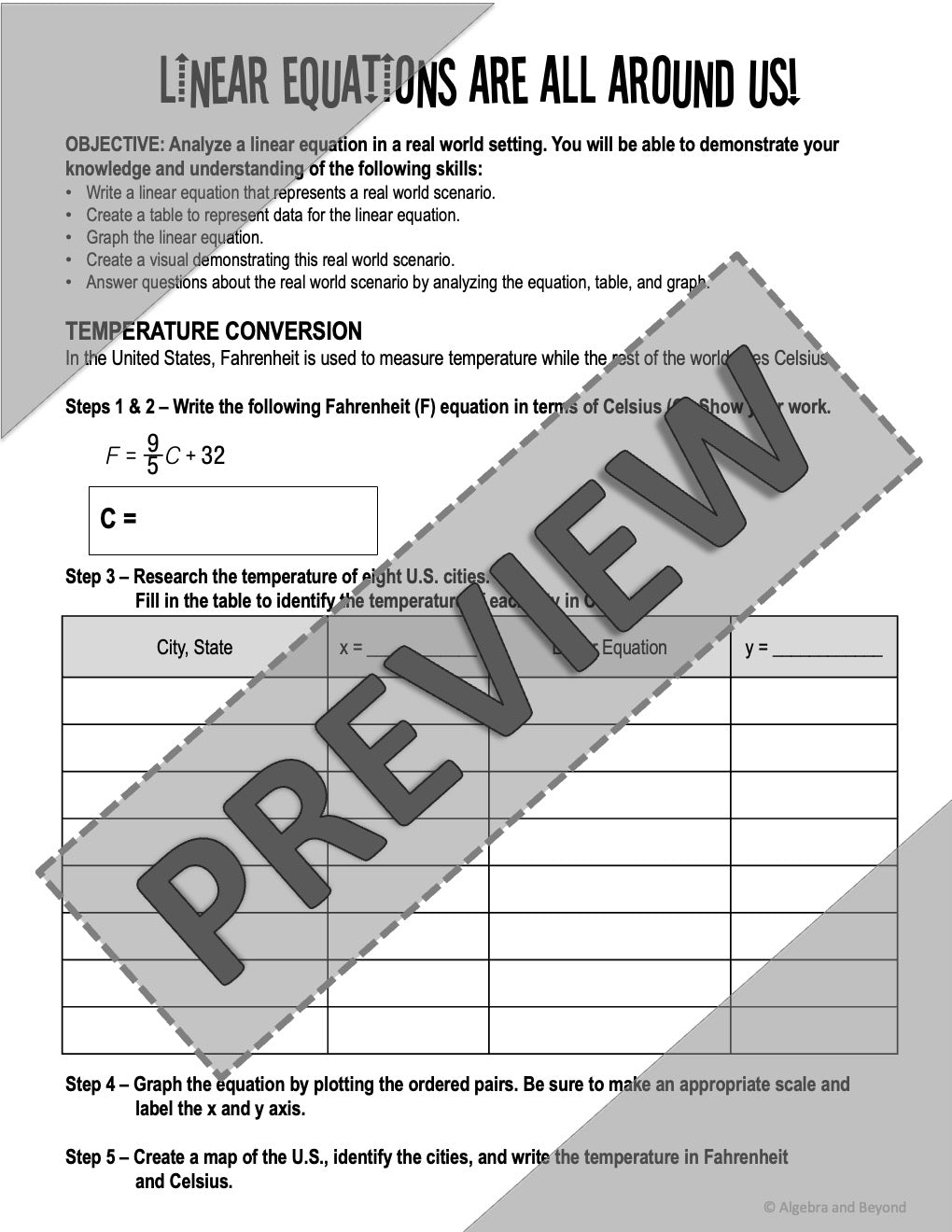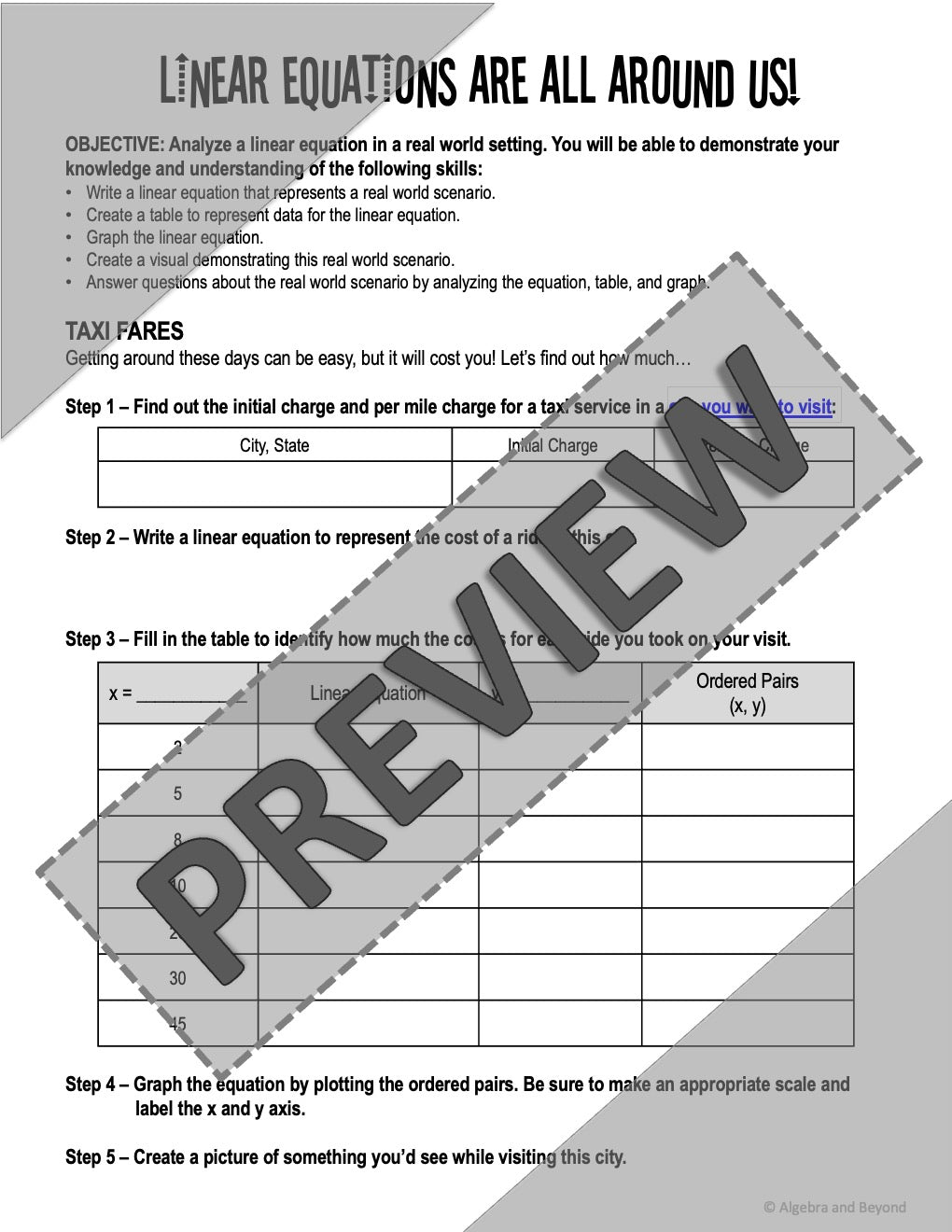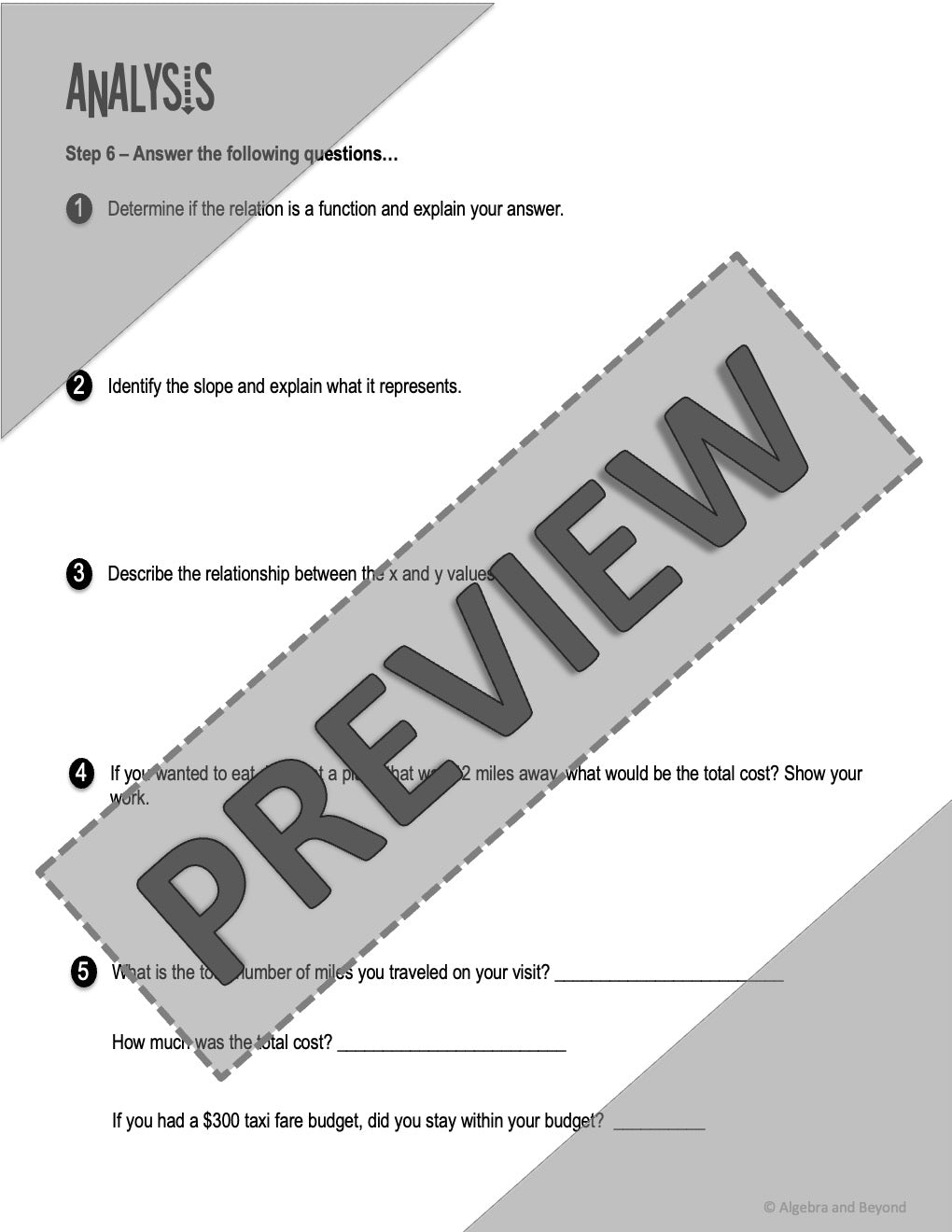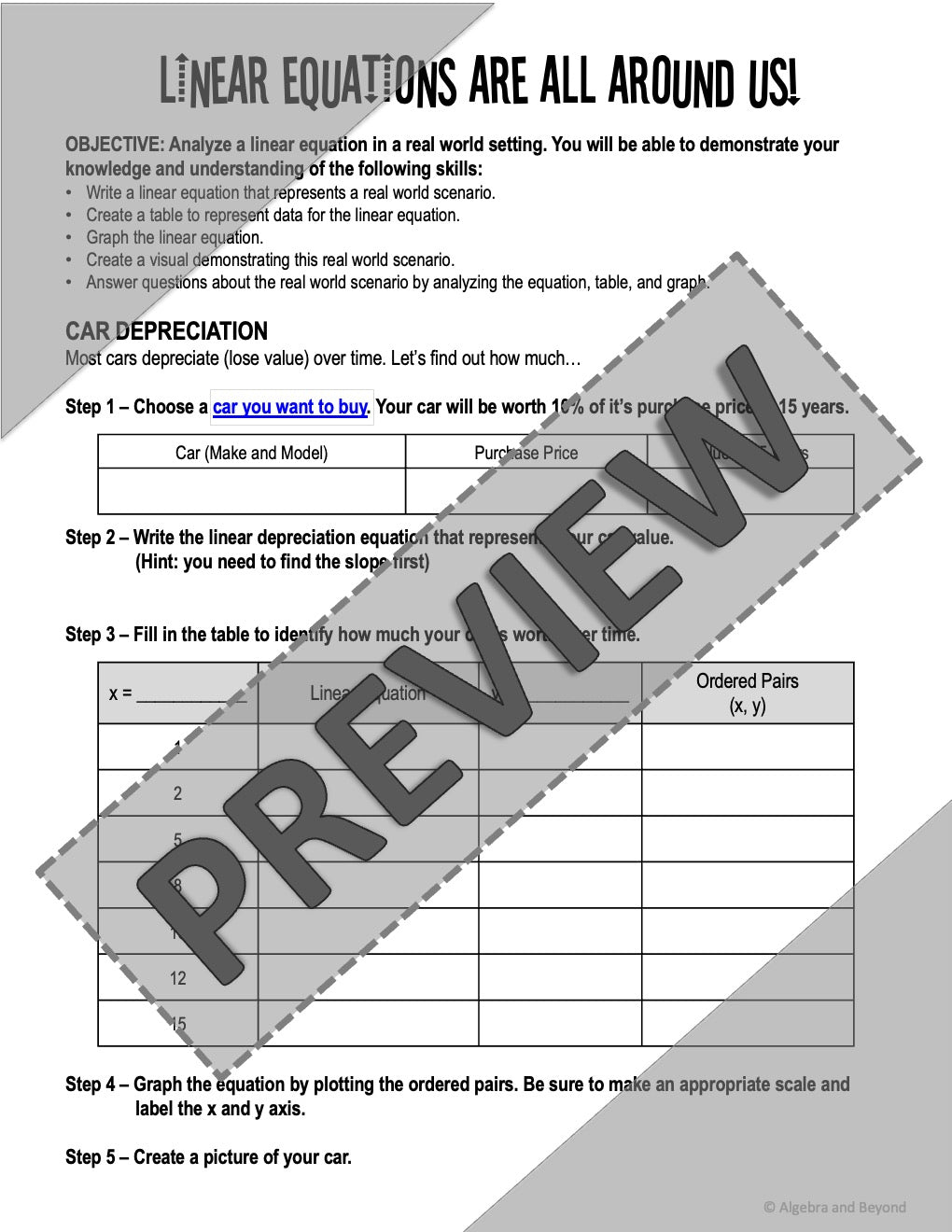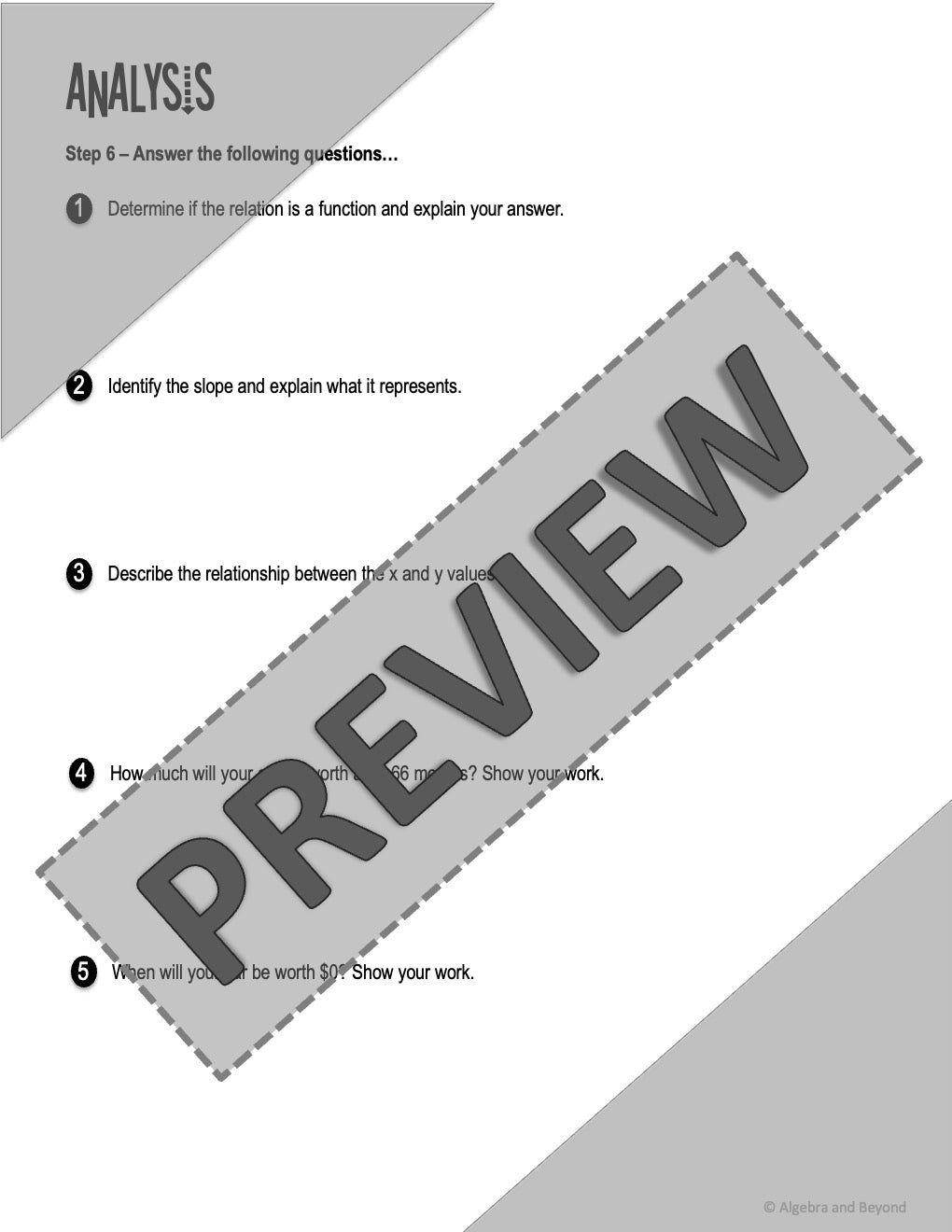 Information about Real World Projects
Activity

Students are able to demonstrate their knowledge and understanding of math in real world settings. Authentic projects that can be used as individual or group work. Project based learning is perfect to integrate within a unit of study or used as a summative assessment.
Details

INCLUDES

• Note to Teacher describing how to use the project
• Student handout (editable)
• Rubric (editable)


*Some projects include extra handouts and/or videos

© Algebra and Beyond
This product is intended for personal use by ONE teacher only. It is a digital download and no physical product will be sent.
Reviews from Educators

I loved the fact that it got the students out of the classroom into the real world. It's often difficult to convince student that math really does connect to life. This made it more than obvious! – Karyn T.

This is an excellent project that  really gets the students engaged. I love how it encompasses so many areas of graphical analysis and at the same time allows students to be creative while demonstrating their knowledge. – Denise M.

I used this at the end of our unit. My students were so engaged while working through the situation. It was refreshing to hear the students explain to me how they are going to use math after high school! Great resource. – Kelley N.

I am always looking for interesting, engaging activities for my students that take them outside of their comfort zone. This was perfect. It was not too hard for my lower students. I love that they were able to be creative. – Debra S.

This is soooo much fun! I absolutely love that it can be used in class and/or for distance learning. I teach ELLs, and it is a great way to make sure they understand certain concepts, as well as practice their English speaking skills at the same time. Thank you so much!! Highly recommended!! :-) – Tara B.

Since we aren't in a traditional setting, I decided to use this in lieu of a final exam. The kids loved it and were very creative. Thanks for creating something out of the box! – MathMakestheWorldGoRound
Build Your Own Bundle
Choose more than one resource and receive a discount!
10% off

Purchase ANY 2 resources and a 10% discount is automatically taken at checkout.

20% off

Purchase ANY 5 resourcesand a 20% discount is automatically taken at checkout.

30% off

Purchase ANY 10 resources and a 30% discount is automatically taken at checkout.
Real World Math Projects
I am always trying to create or find projects where each students' project will be different than every other students in the class because it is more authentic this way. And of course, I want it to be applicable in the real world! This is not always easy to make because if every student's project is different, or even has an unlimited number of solutions, checking each one is extremely difficult and time-consuming for the teacher. Well, guess what?!...these projects are authentic.
Read the Blog