Algebra and Beyond
Regular price
Sale price
$3.00
Unit price
per
Sale
Sold out
Topics included are:


• One-Step Equations




• Multi-Step Equations




• Absolute Value Equations




• Inequalities




• Slope




• Linear representations: graphs, tables, equations, and words




• Linear Regression
6 pages + answer keys with complete solutions
Included is a 

BONUS

 handout on steps to calculate linear regression on a Ti-84 calculator.
View full details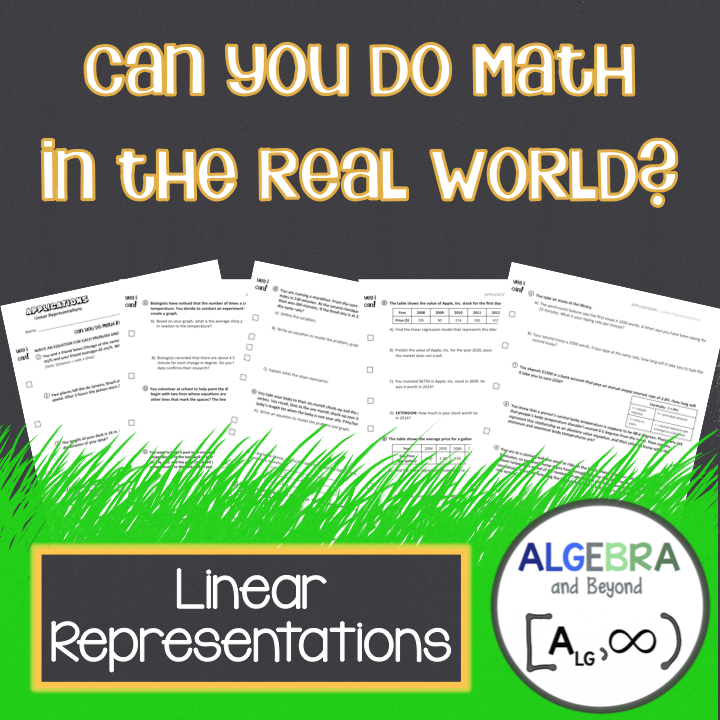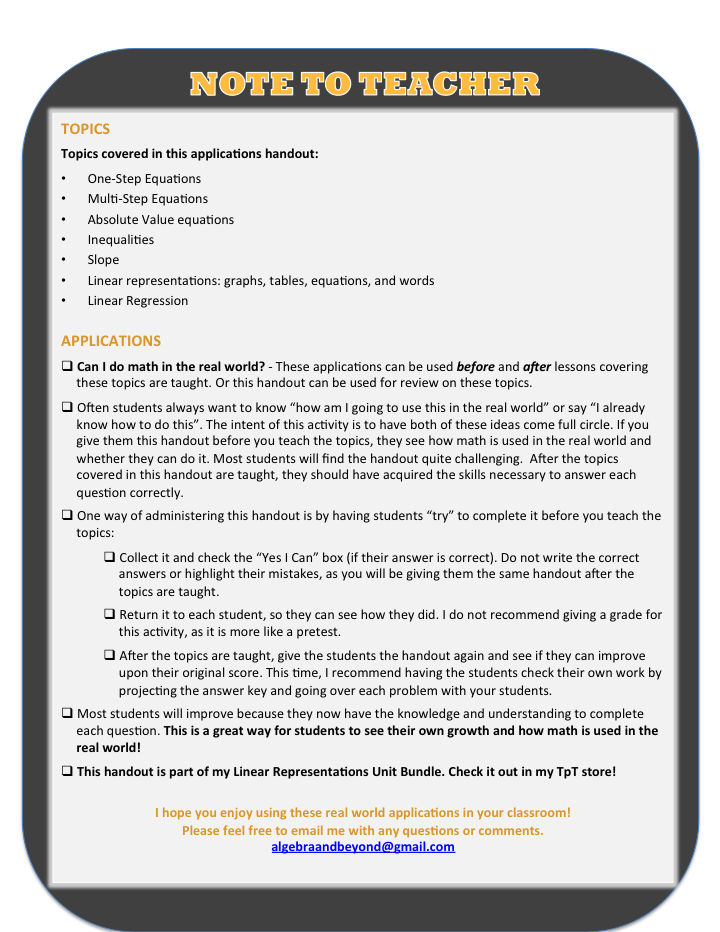 Information about Real World Applications
Lessons

When are we going to use this? Ever hear your students' ask that before?!?!

These handouts challenge students to apply their algebra skills in real world situations. The applications can be used as a way to measure student growth or for review.
Details

TYPES OF TOPICS COVERED:
• Business
• Geometry
• Engineering
• Science
• Sports
• Academics
• Population

Answer Keys: Fully worked solutions for all lesson problems included 

Print (PDF file)


© Algebra and Beyond
This product is intended for personal use by ONE teacher only. It is a digital download and no physical product will be sent.
Reviews from Educators

This is a great resource for students to apply the concepts learned in the classroom. A way to bring the math to life! So many real world applications are provided. - Vallee G.

The question sets were challenging and on-topic. The kids found them far more interesting than the typical "boxed" sets. - Math Working Capital

Too often, I get the "when are we ever going to use this in the real world?" This resource answers the question. Word problems are a challenge for students. I love how the resource breaks down challenging quadratic word problems with steps that students can follow to master. This is defiantly something I will continue to use. - The Math Gnome

I really enjoyed working with students on this assignment. It led to a great conversation about what other factors businesses would need to consider in deciding how much of which products to make, and how other data would be collected and analyzed. - Minda M.

Thank you... great real-world situations to engage students. Varied level of difficulty! - Michelle B.
Build Your Own Bundle
Choose more than one resource and receive a discount!
10% off

Purchase ANY 2 resources and a 10% discount is automatically taken at checkout.

20% off

Purchase ANY 5 resourcesand a 20% discount is automatically taken at checkout.

30% off

Purchase ANY 10 resources and a 30% discount is automatically taken at checkout.